The Drum Lab Is Poised To Host Star-Studded Drum Camp

by KEN "K BO" BIEDZYNSKI - July 24, 2017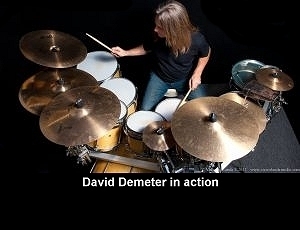 "Musicians today have a harder time because of fewer available opportunities. But when a young drummer comes to me at The Drum Lab and I see that inspiration and drive to excel I perk up; I call it "the curse". The curse being that the student has NO CHOICE but to play. This is the kind of spirit that I love to find in a young student. If he or she has that in them, then I give everything I have to help them realize their vision."

David Demeter, Owner, The Drum Lab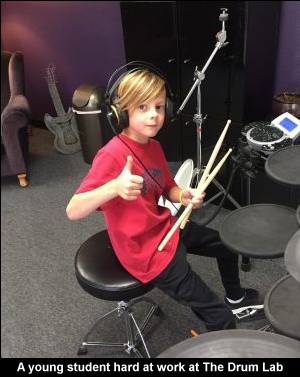 Our friends at The Drum Lab (David Demeter) are hosting a unique and special drum camp next month and we wanted to make mention of it because of the caliber of teaching talent being offered as well as the promoter's keen intent on helping young musicians better their craft. David Demeter - the owner of The Drum Lab - has long been known as a special teacher in part because of his passion for the art but also in part because of his burning desire to connect to students in the hopes of making a difference in their career. Frankly, The Drum Lab's reputation precedes itself and David himself is recognized as a teacher who is selflessly devoted to sharing information to develop talent for players at all levels. Therefore, we really were not surprised at the reaction from clinicians and artists alike when The Drum Lab put the word out about this camp. In fact, below you will hear from some of those clinicians who happen to be renowned performers themselves.



However, let's start with the date and contact information for this magnificent event. Below is a promotional banner for the camp being held by The Drum Lab.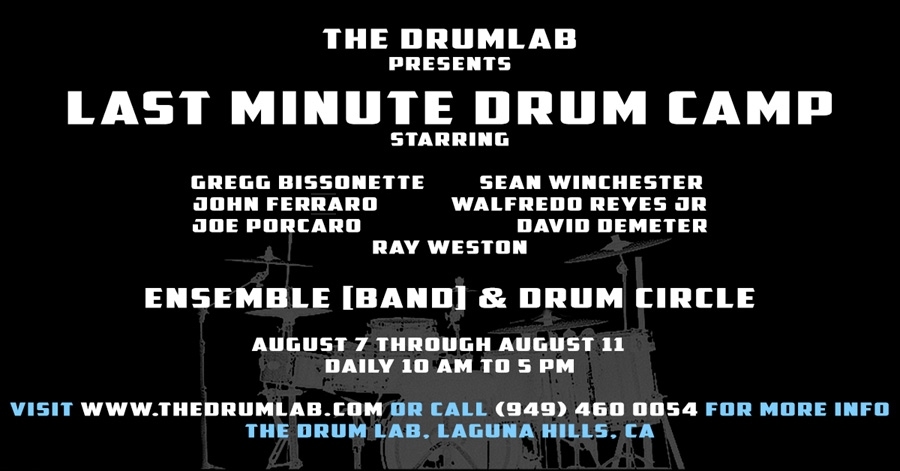 In explaining the impetus for this camp, David Demeter told us this: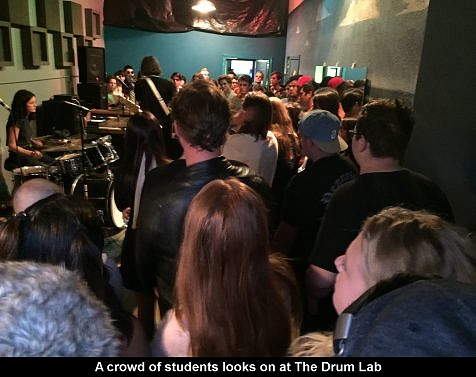 "Teaching is my passion, hands down. Thus, I've stepped up and we're having a major drum event called the 'Last Minute Drum Camp'. Don't let the name fool you; it's been a year in the planning and I'm hoping this is the first of many on an annual basis.

Many thanks to all these amazing drummers and educators. Gregg Bissonette, Sean Winchester, John Ferraro, Walfredo Reyes Jr. and what an honor to have Joe Porcaro here. I'm speechless."
Now, remember we told you that the faculty for this camp is outstanding and rather than take our word for it, we thought we would let you hear from some of the clinicians themselves. Check out what these major players are saying about this terrific camp. We start with Chicago's own Tris Imboden who had this to say about this event:
"I want to tell you that if I were able to go to this event wild horses couldn't keep me away!!! This, for me at least, would be the equivalent of finally getting my college music degree which I was never able to get!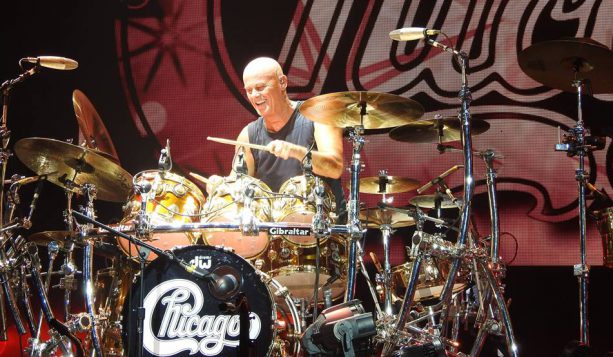 (Photo courtesy of Audrey Arturo)
Every one of these guys have universes of real experience in the music world, have played between them with nearly every major act and artist in the world, and in fact are the best themselves on the planet!! It just doesn't get better than this as an opportunity to take your playing and your career to the next level!"
Here's what Walfredo 'Wally' Reyes, Jr., master percussionist with Chicago and an accomplished drummer himself, had to say:
"There are teachers, and there are teachers!! David Demeter is an amazing dedicated Master Teacher who I truly respect. When I go to The Drum Lab to teach, when I'm not touring, David gives me a specific update on all the students and is amazing to hear this. It's an act of caring and being invested in the success of his students.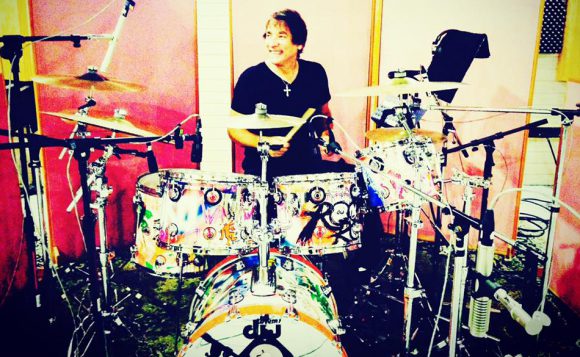 He truly loves watching a student progress, grow and meet goals. I've known David for many years, since the 80s. He has always been involved in every aspect of music, from drumming, composition, song writing, sound, and all this is what he brings to The Drum Lab, not just technical drumming - but making music thru drumming! I can't wait to visit The Drum Lab again and get all the rhythm vibes and exchange of information and knowledge from David and all the students!!"
Last but certainly not least, here's what iconic drummer Gregg Bissonette (Ringo Starr) had to say about David and the upcoming camp: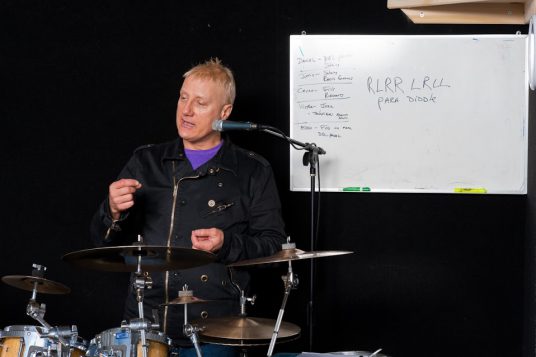 "Hey everybody, I just want to say a few words about my drum brother David Demeter and congratulate him on 16 years of owning and operating The Drum Lab in Laguna Hills. Besides his private teaching he hosts incredible master classes and clinics with industry professionals like Ray Luzier, John Ferraro, Tris Imboden and Walfedo Reyes Jr. and I've been there almost 30 times over the years. It's like a taste of LA in Orange County. If I was looking for a drum teacher in Orange County, The Drum Lab is the only place I'd go. Look for me and my brother Matt coming there soon for the 2nd Bissonette Brothers Bass & Drum master class & clinic. Dave, you are the best!"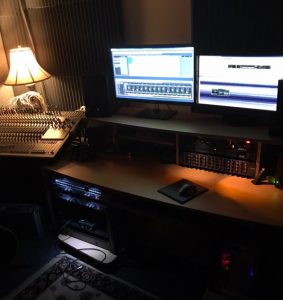 I guess we could go on but you get the point. Students will be treated to a teacher whose passion and commitment is to teach to the outer limits; a faculty comprised of internationally recognized and renowned drummers; and, a state of the art studio that offers all the amenities that a drum student could want. Does it get any better than that? Actually, we did forget one thing. Below, check out this all-star lineup of sponsors who have put their name behind this camp. If this list is not a ringing endorsement for this great event then we don't know what is. These sponsors are the best of the best.
In trying to sum up what I thought was different about this camp - and hence why we covered it - instead of me writing something I thought the following picture would speak volumes as to what students can expect at this camp. Imagine the learning opportunity that a setting like this presents for young students who sit face to face with a teacher like Gregg Bissonette.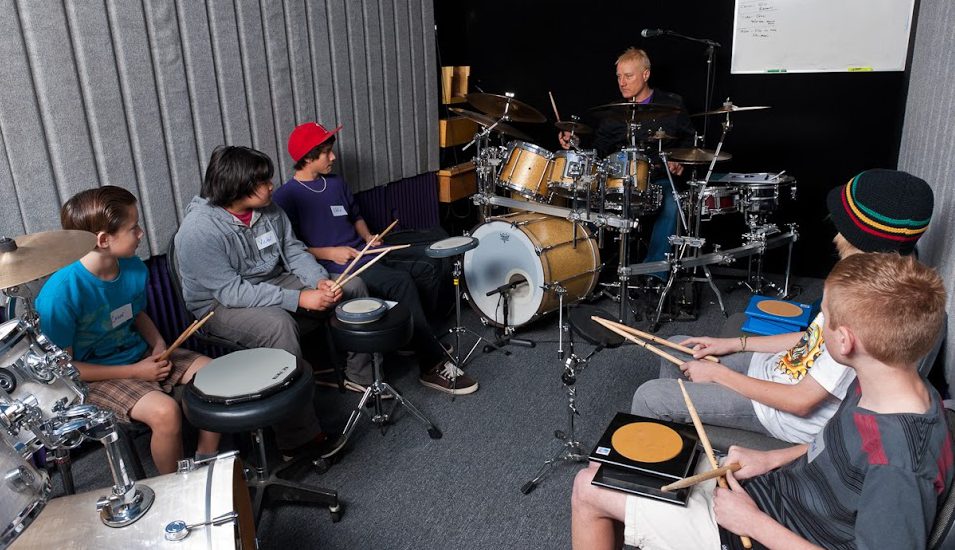 Gregg Bissonette teaches in an intimate setting at The Drum Lab
We wish David Demeter and The Drum Lab the best of luck with this camp; it should be nothing short of a smashing success.
Ken "K Bo" Biedzynski, Editor