The Recording Lab is a state of the art, professional recording facility with the capability of recording, mixing, mastering and final production for all types of projects at any stage of their development.

Whatever your project is: from voice-overs to individual artist to full band, we take the recording of your project as seriously as you do! We are here to help you achieve your goals, serving you as you take your musical vision from concept to completion.
The Recording Lab features your choice of several studio-ready high-end drum kits, fully prepped, miked and professionally tuned to your project requirements.

The Recording Lab has many different kits, snares and cymbals available to choose from. Drums have always been what makes or breaks a great recording. At the Recording Lab drums are our specialty.

Typically, a band or artist brings their own drums to the recording session and substantial time can be spent preparing the kit for recording. Microphones pick up every sound, magnifying flutters, buzzing, rattles, inconsistent or incorrect tuning, as well as squeaking of foot pedals. While the recording technician labors to track down the offending noise and then spends the time to remedy various problems such as tuning, dampening and in some cases replacing drum heads, your entire band can be kept waiting for hours with the $ meter running.

The Recording Lab eliminates the frustration of this scenario by providing you with a completely "Studio Ready" drum kit fully tuned and miked with sound levels already dialed in. This saves you time and money, and eliminates the frustration of waiting for the drummer while the engineer gets the drums just right.

Of course we do offer the option for you or your drummer to bring your own drum kit which we will be most happy to prepare for recording, at our regular studio rates.

The Recording Lab Client List includes

Disney, Viewpoint Creative, Yvonne Perea, Matt Bissonette, Martin Gerschwitz, Greg Vail, Craig Coliday, Gregg Bissonette, Walfredo Reyes Jr., Edward Knight; Yasmin Wevers with Project Seven, and the YWJQ; Luke Sims with Ten Cent Prophet, Kristina Slezacek, The Dreams, The Effect band, Matthew Swedo, Dan Fowler, John Murphy project, The David West trio, Matt Davis music soundtrack productions.

The Recording Lab Rates

For recording rates, click Here.

The Recording Lab is ready to get started on your project! Why don't you call 949.586.5000 so we can discuss your recording session today?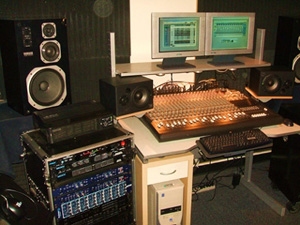 The Recording Lab Selected Equipment List

Our equipment includes:

Recording Hardware:

• Mackie 24/8 mixing console
• Demeter microphone preamps (4 channels)
• Presonis APC88
• Motu 24io
• Motu 2408
• Over 40 microphones to choose from

Recording Software:

• Nuendo
• Acid
• Sound Forge
• Antares Auto-Tune and mic modeler
• Wave Lab
• UAD Powered plug-ins
• and over 3,500 high end plug-ins

Keyboards:

• Korg, Roland and Yamaha keyboards
• Acoustic upright piano

Drum Kits:

• Brady Drums (Exotic Australian Jarrah Woods)
o Snare Drum: 5 1/2" x 14"
o Mounted Toms: 8", 10", 12" and 14"
o Floor Tom: 16"
o Kick Drums: 22" and 20"

• Tama StarClassic
(Maple Woods, Silver Sparkle Wrap Finish)
o Snare Drum: 5 1/2" x 14"
o Mounted Toms: 10", 12"
o Floor Tom: 16"
o Kick Drum: 22"

• Yamaha Drums, Manu Katche 'Hip Gig Kit'
(Philippine Mahogany and Bubinga Woods,
Silver Wrap)
o Snare: 12"
o Mounted Tom: 10"
o Floor Tom: 13"
o Kick Drum: 16"

• Yamaha Stage Custom Series
o Snare Drum: 5 1/2" x 14"
o Mounted Toms: 10", 12", 14"
o Kick Drum: 22"

• Pacific Drums by DW – CX Series
(Maple Woods, White Onyx Wrap Finish)
o Snare Drum: 5 1/2" x 14"
o Mounted Toms: 10", 12"
o Floor Tom: 14"
o Kick Drum: 22"

• Pacific Drums by DW – CX Series
(Maple Woods, Black Onyx Wrap Finish)
o Snare Drum: 5 1/2" x 14"
o Mounted Toms: 10", 12"
o Floor Tom: 14"
o Kick Drum: 22"

• Pearl Session Custom Series
(Maple, Tobacco Burst Fade)
o Snare Drum: 5 1/2" x 14"
o Mounted Toms: 10", 12"
o Floor Tom: 14"
o Kick Drum: 22"

Snare Drums:

• Brady (Exotic Jarrah Wood)
• Tamburo (Block Maple, Black Wrap Finish)
• Masters of Maple (Maple, Various Finishes)
• Yamaha
• Pearl
• Pork Pie
• Ludwig (Vintage Gold Label SupraPhonic,
Chrome)
• Pacific Drums by DW
• Various custom snare drums

Cymbals:

• Zildjian
• Sabian
• Paiste
• Meinl