Chariya Bissonette - Vocal Instructor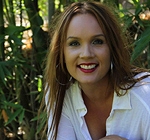 Chariya started her musical career at the age of five when she sang on a Bob Hope Christmas Telethon.

In her teens, Chariya began her long working relationship with the Walt Disney Corporation, where she opened for artists such as Gloria Estephan, Boys to Men and New Edition. She later went on to perform as Pocahontas on the main stage at Disneyland as well as the People's Choice awards for BBC London.

Her background vocal credits include performances on the Tonight Show with Sheryl Lee Ralph and Nia Peeples as well as for the jazz band Hiroshima at the Hollywood Bowl, the Latin band "City of Angels Orchestra", Yolanda Adams, Rick Springfield, Ashford and Simpson, David Benoit, Rudy Gaitlin and David Phelps to name a few.
Chariya is also a well-known teacher that has helped to place students on Broadway as well as assisted several students into writing and recording careers.

An Orange County associate of world renowned vocal coach Seth Riggs, Chariya has special training in vocal therapy assisting students toward recovery after injuries to the voice. She has also has taught original curriculum for both Hope International University and Biola University for the tracks concentrating on inspirational and religious studies of music as well as travelled nationally instructing at conferences for worship leading and the arts in church. In addition, she served as Department Head of vocal music at the Los Angeles Music Academy as well as served as the year four voice teacher at the Orange County High School of the Arts.

As a producer, Chariya has served at the Verizon outdoor amphitheater and Anaheim Pond as a main production head for several large scale concerts and evangelical outreaches live to radio interfacing with union tech as well as a variety of artists. She has also written and produced musical productions and concerts serving a multitude of organizations.

As a songwriter, Chariya has written and produced several songs for a vast music catalogue created with her husband for placement of music on television and movies. Her most successful placement being for a regional and national holiday campaign for Jaguar.

Her charitable focus is on the motivation and building up of people and she is involved in several organizations that assist the under privileged and those in recovery seeking to make and live a better life.

Chariya is currently a writer and vocalist who spends her time serving the church on the whole in the area of strategic planning, execution, developing and expanding Worship Arts. She is also active in session singing, writing music and doing voice-overs (American Airlines being her latest credit along with the Japanese cartoon Zeraphaim).

Chariya's greatest strength in addition to her artistic creativity is her ability to teach, mentor, and administrate at an equally high level of excellence.