David Oromaner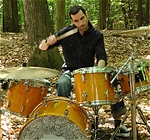 David is an alumni of The Collective School of Music in NYC and also holds a bachelors degree from University at Albany and a Masters in Education from Touro College in New York, and is a recipient of the prestigious Louis Armstrong Jazz Award.

Some of the diverse artists David has performed with include Llew Matthews (Nancy Wilson), Bob Quaranta (Mongo Santamaria), Mambo NYC, Karel Ruzicka Jr., PJ Loughran, and Changing Modes. David has toured extensively throughout the United States and Canada, including appearances at the popular Bonnaroo Music and Arts Festival (2014), and North by Northeast (2012). David has played on more than 50 records and nationally distributed soundtracks and is currently recording and producing with the jazz/rock fusion trio, Outside Pedestrian.

As an educator, David has given master classes and clinics at many schools and organizations including, MIMA Academy, MLK Arts and Technology, New York City College of Technology, and was a member of the Carnegie Hall Neighborhood Education Concert Series from 2001-2005.

As a drum instructor David specializes in technique and natural body movement. David studied the Moeller method with Jim Chapin and has been a student of the Alexander Technique since 2008. David uses his movement knowledge to help students of all levels identify and release areas of tension. David's lessons are a combination of technique and then applying that knowledge to the drum set within a musical context.

"Although I like to challenge my students to grow and encourage routine practice, I also feel that music is essentially meant to be fun. That said, my job is to find out what the student's areas of musical interest are and use those as departure points to broaden their musical skills."