Patrick Butler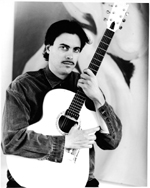 Patrick Butler was born in Monan, Indiana. The first sounds he heard were melodies to Celtic and bluegrass tunes picked out on banjo, guitar and mandolin by his father. Patrick's family moved to New Brunswick, New Jersey while he was four years old. New Brunswick was an area unusually rich with jazz musicians. Joe Pass was born there; other residents included organist Charles Earland, Renaldo Jorge, trombonist with the Fania All-Stars, and alto saxophonist James Spaulding. Patrick started playing guitar at age 13 and went on to record and play with many varied artists.

Harry Leahey, jazz guitar genius, lived in nearby South Plainfield, New Jersey; Patrick started studying with him at age 15. Leahey, nicknamed "Buddha of the Guitar", was a member of The Phil Woods Quintet and was a student of Johnny Smith, the Master of Chordal Theory, and Dennis Sandole, whose most famous students included saxophonist John Coltrane and guitarist Pat Martino.

Upon graduating high school, Butler spent a short, intense period of time playing and studying with James Spaulding, while Spaulding taught at Rutgers University. James Spaulding needs no introduction to any serious jazz lover; he has recorded with the "who's who" of jazz.

Butler then met funk drummer and impresario, Bill Curtis, and was invited to join The Fatback Band, a funk unit from Queens, New York. The first record he recorded with Fatback, Brite Lites/Big City, went gold. Butler then spent the next several years touring extensively and recording two more records with Fatback, including XII, which included the trackKing Tim III, purportedly the first rap track ever released on a major label! During the Fatback years, Butler also studied with the Trinidadian jazz guitar player, Roland Prince, who was then living in Brooklyn.

Feeling the need for more creativity, upon the conclusion of touring with Fatback, Butler took two years "off" for a period of intensive composition. During this period, he composed a book called "Pentatonic Flights," which used the pentatonic scale as the basis of the harmonic structure instead of the diatonic scale.

Moving to Los Angeles, Butler recorded with Stephen Perkins' acid jazz jam band, Banyan. He also appears on Mike Watt's Ball Hog or Tug Boat on a track featuring Henry Rollins. He is currently fronting the Los Angeles-based Celtic funk unit Superkeltic, and is an annual attendee at Uli Jon Roth's Sky Academy.